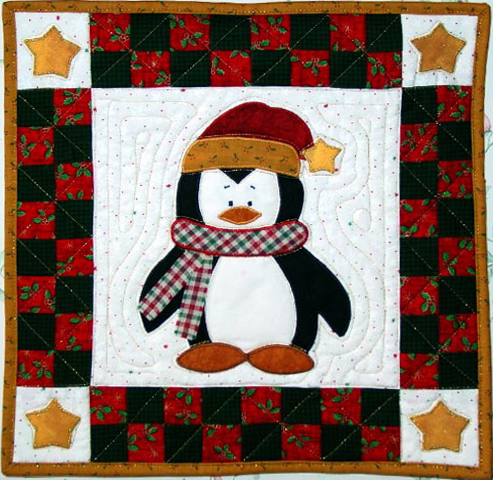 Star Penguin Quilt
© 2006 Jeanne R. Prue
Machine pieced, machine appliqued and machine quilted with metallic thread




Star Penguin is an original design that I made for my guild, the North Country Quilters, Christmas gift exchange.





January, 2006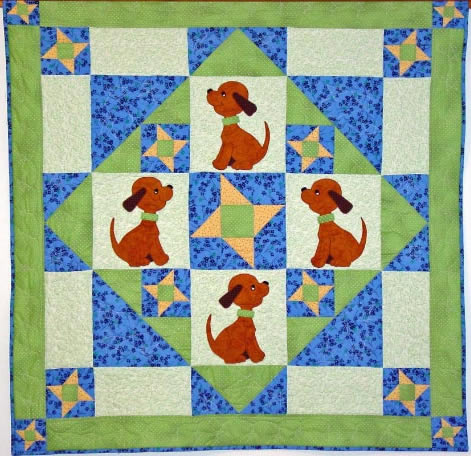 Dog Star Quilt
© 2006 Jeanne R. Prue
Machine pieced, machine appliqued and quilted
This quilt is an original design also. In anticipation of my brother and sister-in-law's baby, I wanted to include one of my Mom's appliques. She would've been so pleased with another grandchild 35 years after her first grandson was born! Dog Star was the result of this "collaboration." Alexander is a strapping big boy - isn't he adorable?!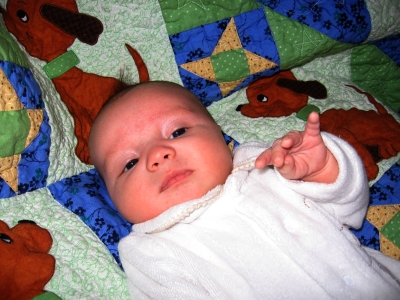 Alexander on his quilt
February, 2006
Every year we're fortunate to be able to spend time in Hawaii with our son Jon, daughter-in-law Angie, and our 3 youngest grandkids. Of course, the kids always sew with Grandma! This year was no exception. Emma and Jen both did a hand sewn practice piece and Jenny completed a hand sewn Four Patch. Nic, well, decided to sew "his own" way. The wadded up lump he created wasn't exactly what I had in mind but he sure had fun sewing it! Both girls did really well sewing with the machine, each completing a Four Patch. Nic "steered" while sewing a Nine Patch. The girls already have plans for what they'll sew the next time we're together. When visiting a quilt shop, they lovingly caress the fabric, even smell the fabric, and wonder at all the beautiful colors and prints. They're hooked already!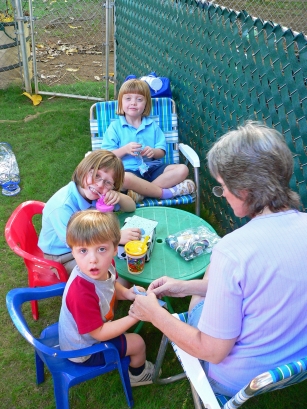 Emma,6, Jenny,5, and Nic,3, sewing with Grandma
[ Back ]
[ Next ]
[Contact Us]


© 2008 Jeanne R. Prue
This page updated 2008