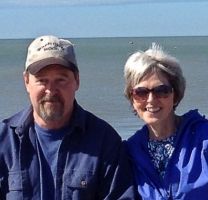 Jeanne & Bill Prue
Jeanne Rae Crafts & Wildflower Wood
About Us
Growing up in Wisconsin in a family where crafts are central to home life, Jeanne Prue comes by creativity naturally. A self-taught artist, Jeanne creates her original designs in her studio in Newport, located in Vermont's Northeast Kingdom. Attention to detail and charming design are hallmarks of Jeanne's work. Husband Bill, a native Vermonter and an accomplished artist in his own right, works side-by-side with Jeanne. Bill specializes in fine woodworking and creative design but also joins in painting ornaments.
Where do Jeanne and Bill find their inspiration? The natural beauty of the surrounding Vermont countryside, in every season, provides endless possibilities. As evidence of their avid interest in birds and other wildlife, you'll find native flora & fauna prominently featured in many ways. And their six darling grandkids help keep the joy and whimsy alive in everything they do.
Jeanne Rae Crafts sells hand crafted items at quality art and craft shows in Vermont and New Hampshire. Our handcrafted, hand painted furniture is sold at spring through fall craft shows. Ornaments - hand painted glass balls, dough ornaments and wood sled ornaments - are featured in our shows from October through December. See our Craft Fair Calendar for details of each fair including maps. To see our entire line of furniture, home decor, hand painted glass balls, dough ornaments and wood sled ornaments, visit one of these fine fairs! Download a flier here.